CHINESE CHECKERS GALLERY
Hop Ching Checkers, published in 1928 by Pressman, marked the debut of Chinese Checkers in the United States. Ravensburger, the famed German game company was the first to modify the square Halma board into the six-pointed star so well known to all who have ever played the game. Ravensburger to this day still calls the game Halma. Chinese Checkers, a game for two to six players, may very well be the only true modern classic. The first illustration is of the Straits Mfg. Co. 1938 edition.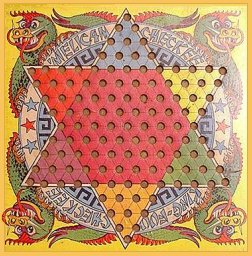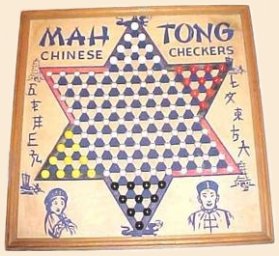 CHINESE CHECKERS PUBLISHERS
Akro Agate Co.

A Loy Mfg. Co.

American Toy Works

Baldwin Mfg. Co.

Berry Pink Industries

Berwick Co.

Brio

Brown Mfg. Co.

Built Rite Co.

Cardinal Industries

Cathay Games

C. A. Tanner Co.

Chad Valley

Chung Yee Toy Factory

Classic Fantastic Game Co.

Crestline Mfg. Co.

Crisloid Plastics

Dajo Toys

Danbury Mint

Deco Play

Drueke

Eagle Toys

Educa

E. S. Lowe

Franklin Mint

Fundex Games

FX Schmid

Gabriel

Galt Toys

Gigamic

Golden

Gotham Pressed Steel Corp.

Hartung Spiele

Hasbro

Hasenfeld Brothers, Inc.

Hausser Spiele

Hickory Farms

Ideal

Imperial Glass

J & L Randall Ltd.

J. Chein Co.

J. L. Friedel Co.

Jos. Schneider, Inc.

J. Pearson & Co.

Juegos Borras

Juegos Schmidt

Kaysons Novelty Co.

Kentheon Corp.


Klee

Kings Row

Lakeside Games

Learning Smith

Leonardo Spiele

L. G. Ballard Mfg. Co.

M & I Banner Games

Marble King

Mega Marbles

Melco

Merit

Metaluminum Specialties Ltd.

Midwest Products Co.

Milton Bradley

Morize S.A.

National Games

Norbert Dinter

Noris Spiele

Northwestern Products Co.

Parker Brothers

Pavillion

Philmar

Pressman

Ranger Steel Products Corp.

Ravensburger

Schmidt Spiele

Selchow & Righter

Simba

Somerville Paper Boxes Ltd.

Spear's Games

Steven Mfg. Co.

Straits Mfg. Co.

Tavla & Co.

Tee Pee Toys

Tee Toys

The Ohio Art Co.

Transogram

Tucket Toy Corp.

Unique Items Co.

Warren Built Rite Products

Warren Paper Products Co.

Whitehall

Whitman Publishing Co.

Williams Mfg. Co.

Wm. F. Drueke & Sons

Woodfield Collection

Woodhaven Metal Stamping Co.

World Wide Games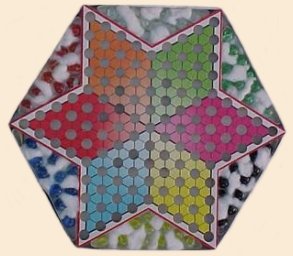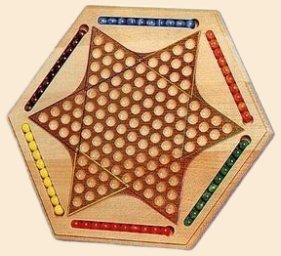 CHINESE CHECKERS RULES

Chinese Checkers is a game for 2 - 6 players.

Object of the game:
The object of Chinese Checkers is to move your marbles across the board to the star point directly opposite your starting star point.

To Play the Game:
Each player uses a different colored set of marbles and places them into the holes in one point of the star. The players may move or jump in any direction as long as they follow the lines. The marbles may move one hole or jump one marble of any color in any direction, provided the hole beyond the jumped marble is vacant. Multiple jumps are allowed wherever they can be made following the rules. Play continues to the left.

(The following rule is not part of the original rules of the game.)

If one or more of a player's marbles are imprisoned in his/her original starting point so that the marbles cannot be moved, such player forfeits the game. In the event of multiple players, the imprisoned marbles are removed and the game continues as before.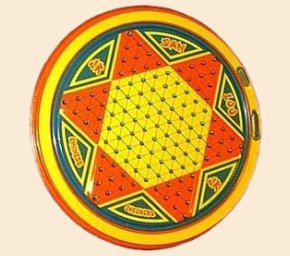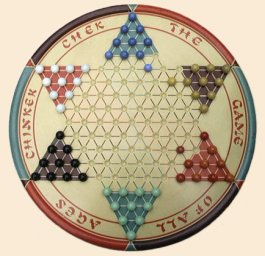 CHINESE CHECKERS' MANY NAMES
Chen Chek

China Peg

Chinese Checkers

Chinese Chequers

Chinese Marble Checkers

Chinesen Halma

Chinese Star Checkers

Chinesische Dame

Ching-Ka-Chek

Ching Gong

Ching Peg

Chinker Chek

Chinko Checko Marblo

Chow Mein

Chung Peg

Coo Lee

Damas Chinas (Spanish)

Dames Chinoises (French)

Dragon Chinese Checkers


Far East Checkers

Halma

Hoo Wun

Hop Ching

King-Foo-Checkee-Melikan-Checkee

Lee Foo

Mah Tong

Man-Dar-In

Marble Checker

Ming Check

Orient

Oriental Checkers

Pagoda Chinese Checkers

Peg-O-Ching

San Loo

Shanghai Chinese Checkers

Sixto

Stern-Halma

Tanzi Tiaoqi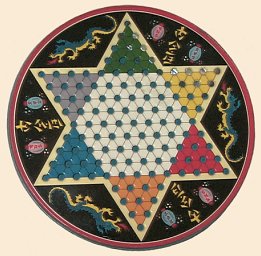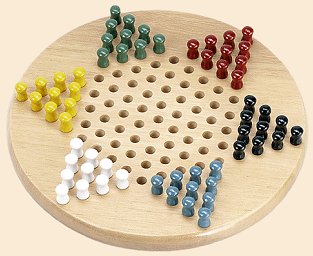 C ~ Chinese Checkers ~ Game Rules ~ Home